---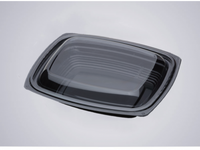 Black OPS Tray for Salad and Side Dish
Size : Small - 235 x 192 x 60 mm
OPS Tray and lids are cut resistant and provides high see thru clarity.
Temperature Tolerance– Best for cold case and room temperature applications. It can withstand refrigerated and freezer temperatures from -10°F to 150°F.
 Great lock function to increase operational efficiency.


 Well airtightness prevents leaks from dressings and sauces. 


 High transparency of lid which provides greater product visibility and enhance merchandising display.


 Heat resistance and microwaveable of base provides convenience to heat and eat.


 Stackable and withstands pressures well.