---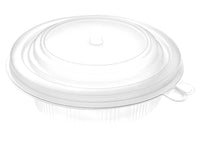 The plastic lid can be used for hot soup cups and take away bowls to avoid spillage.  A design to separate the different foods and to keep fresh and good delicacies.  The temperature resistance is from -5 to 110 degree Celsius.

The plastic lid is made of food grade PP material, 100% safe to health and microwavable. Different colors can be customized.

This lid can be used for hot packaging bowls with 142mm diameter.
Fit 780 / 850 / 1000ml bowl