---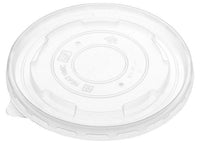 The plastic lid can be used for hot soup bowls and take away packaging to avoid spillage. The lids with different sizes are made from professional plastic thermoforming machines. The temperature resistance is from -5 to 110 degree Celsius. 

The plastic lid is made of food grade PP material, 100% safe to health and microwavable. Different colors can be customized.  

The lid can be used for hot packaging bowls with 165mm diameter.
Fit 600cc and 900cc Wide Bowl